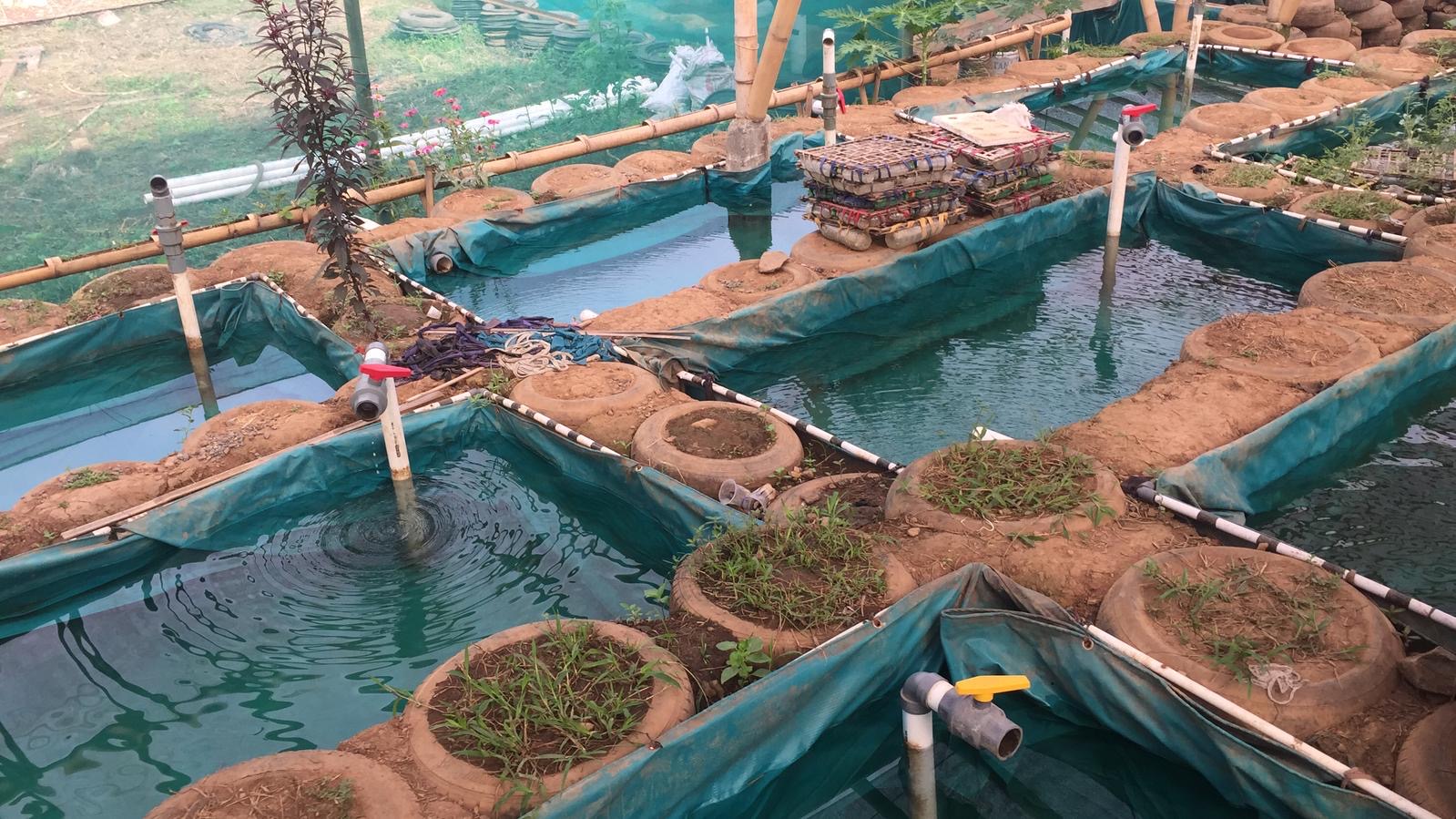 Making Aquaponics in the jungle
To build the aquaponics, we recycled 6,500 car tyres in the infrastructure build. Don't worry, the tyres are sealed and cannot contaminate the system.  For the first stage pictured above, the plumbing is elaborate – it includes a self-cleaning vacuum system with stand pipes to regulate the flow in and out of each bay. The bay interconnections are more complicated than a box full of coat hangers but you can hardly see it, just the spouts and standpipes and a few valves here and there.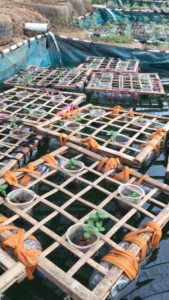 We are still in test phase one. But test phase one is more significant by far than any aquaponics we have done before. Not only the fish and the growing of fish food, but we are twerking and reinventing all the elements to try and create a prototype that suits this environment.  There is a good deal still to do and get right.
A lot to consider
There is much to consider: water, fish, food, plants, shade, ventilation and cleaning are just a few topics around the aquaponics. We are working consistently to improve and invent something special and cover all the details, especially caring for the fish.
Still, a way to go
We still have a way to go to complete all this. The goal is to prove a simple system can be used productively for long term food security. We know the theory and have tested it for some years before this system at a small scale in Australia.
Aquaponics uses 10% of the water needed to grow the same food, so it is excellent for water consumption, especially since agriculture is responsible for 70-80% of the available water on earth. It grows food faster and provides variety, including the raising of fish, fruits, vegetables of all kinds that can be far more concentrated in the system than in the ground.
The most fantastic thing about the aquaponics is that plants actually grow in water! Literally. But the water is spiked to make them grow healthily and quickly. Spiked, not with lab chemicals but with the ammonia from the fish waste. So this becomes an exciting prospect. Get the balances right and make the fish happy and they eat and poop, and that grows our green food.
Learning aquaponics
We are learning by doing. We have the system growing most of the food for the fish along with live food we grow on the farm and fermented green waste.
Phase two and three still to come
Stage two will be re-roofing the whole system. The system requires it, but this will be quite a cost. And phase three is completing the entire system. We need an additional water source first before we can embark on stage three. While the infrastructure is built for it, we are temporarily growing in that area while we wait.
Building the aquaponics part 1